TFM LIKELY TO GO OFF-AIR DUE TO BLACKOUTS
As loads shedding continues hitting hard various economic activities in Malawi Karonga based community radio, Tuntufye FM-TFM says it is not spared as it is spending close to one million Kwacha monthly in conducting its broadcasting affairs using fuel powered generators hence the call for well-wishers' interventions including its listeners.
According to Director for the Station Innocent Nazombe the radio has a monthly budget of two hundred thousand kwacha in case of short term blackouts due to some minor faults experienced by ESCOM but now the budget is shooting to over eight hundred thousand Kwacha since its operations go beyond eight hours consuming more than 20 litres of fuel per day.
"We spend more than what is budgeted for per month with an aim of reaching to our listeners but with the current prolonging blackout situation our operations are being negatively affected which if it can continue being the case we will not be able to go on by going off-air during such times, just as other community radio stations are doing. So we are calling upon well-wishers to help us financially to continue with our normal schedule".
Going by the motto of the radio "Your Good News and Development" Nazombe has said with the increasing cost of living in this country fuel prices have also hiked therefore this is the time when listeners should show their love and responsibilities in rendering the help being asked for to continue being served with Good News and Developmental information.
The blackouts are due to a Cyclone Anna that hit the country some months ago which destroyed some electricity power stations.
By Winkly Mwaulambo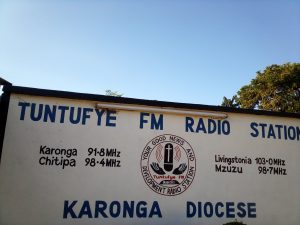 ---