GOSPEL ARTISTS TO BE AGENTS OF CHANGE, SAYS MUVA
By Wezzie Mwangonde
One of the gospel artists in Karonga District Donnex Muva has called other artists to be agents of change by reaching out to the vulnerable and prisoners.
Speaking in an interview on Tuesday, the gospel artist said apart from singing, artists have to be aware that they are missionaries to their music followers on different challenges, especially the vulnerable who always feel neglected by others.
Muva added that as one way of fulfilling his ministry of reaching out to others, he has organized a music show which is scheduled on 2 July 2021 at Sumuka Inn in Karonga District from 6pm which aims at raising money to buy basic needs such as soap and sugar to be given to the sick and prisoners in the district on 6 July 2021.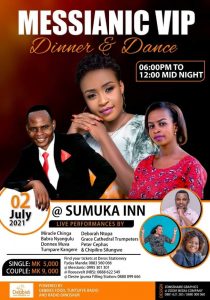 "During this day we have other artists such as Miracle Chinga, Chipiriro Silungwe and Tumpale Kangere. I, therefore, would like to urge everyone to support us on this day", said Muva.
Currently, Muva is also constructing 3 toilets at Karonga Prison which will be handed over on Independence Day this year which falls on 6 July every year in the country.
---