COMMUNITIES IN NYUNGWE AND ULAHA SING A NEW SONG OF FOOD SECURITY
Afikepo project in Karonga is showing some great positive work that is being done by the residents and farmers of Ulaha in Nyungwe T/A Mwilang'ombe in a bid to end malnutrition.
The Principal Nutrition HIV/AIDS officer in the district Khumbo Mkandawire confirmed this on an open day function of which the main theme was promoting better nutrition status for a better social economic status in the area of Senior Traditional Authority Mwilang'ombe.
Mkandawire has advised farmers as they are harvesting their produces they should not sell everything as there might be some possibilities of facing hunger this year.
"For one to work properly and be of good health, nutritious food is required as such I would like to advise everyone to eat well balanced meals to reduce the increase of malnutrition in different areas and as people are harvesting their crops I urge them not to sell all their produce so that they don't face hunger in the near future. Mkandawire said.
Mkandawire further advised men to also take part in the process of reducing the increase of malnutrition the area by working hand in hand with women.
In a separate interview with Senior Traditional Authority Mwilang'ombe who was the guest of honor on the function thanked and applauded the project for the support it has offered to farmers in encouraging them to go on teaching each other.
"On behalf of my fellow leaders in this area I would like to thank the Afikepo for the support and help they have offered to the farmers in the area and due to the teachings of how they can have a nutritious and balanced meal and it is so pleasing to see how farmers are working very hard to sustain their area for instance they have discovered a new way of dealing with Fall Army Worms which is Mululusha leaf." Mwilang'ombe said.
Meanwhile one of the lead farmers in the area Alick Nyirenda thanked Afikepo on behalf of the community for the intervention as they are now able to teach themselves and provide enough for their families.
"All thanks to the Afikepo because lives of people in our community are improving we are able to provide enough food for our families as we have been educated on how to work on the farm and produce good produce and teach ourselves as farmers." Nyirenda said.
Nyirenda further advised farmers in the country to try use the Mululusha leaf which they have discovered that controls Fall Army Worms which have been damaging crops in the country.
By Trifornia Mtawali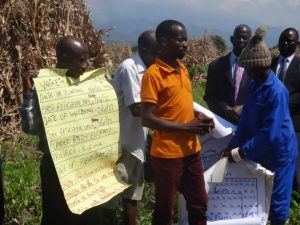 ---