Chanthipa Gets Potable Water From Aspiring Candidate
By Norbert Tambalamtuwa Mzembe
Chanthipa Residents at Gumi in Chiwondo in Karonga District under Traditional Authority Kyungu can now breathe a sigh of relief for the supply of borehole water in the area of Group Village Head Mulandula after struggling for a couple of years searching for potable water.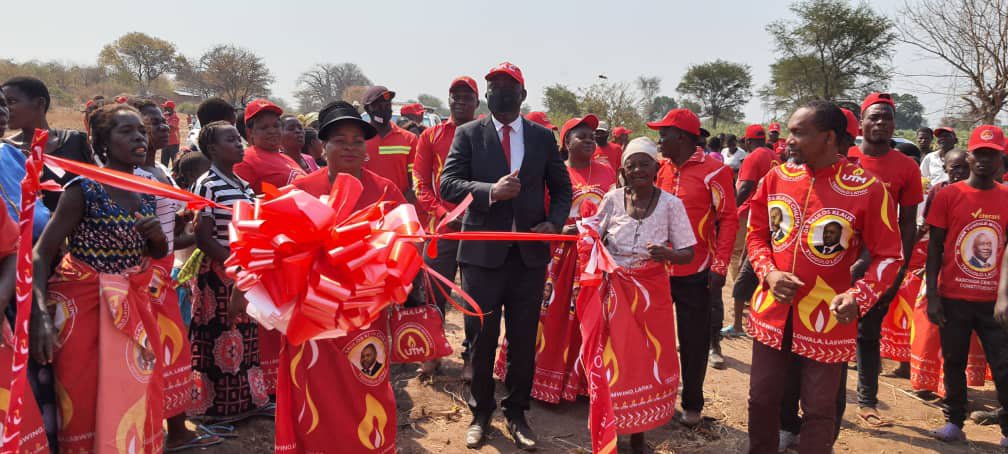 Frank Tumpale Mwenefumbo (centre) during the borehole handover ceremony
An aspiring candidate for parliamentary position in Karonga Central Constituency, Frank Tumpale Mwenifumbo made the initiative using his own funds to drill the borehole.
Speaking during a handover ceremony of the water facility at Chanthipa in Chiwondo on Wednesday, Mwenifumbo said he decided to do this development because he is passionate to improve the lives of people in Karonga Central Constituency by ensuring that they have access to clean water, health facilities, education and good road network just to mention but a few.
"They say water is life because it works as medicine in our bodies and that 80 per cent of our bodies comprise of water hence the need for people in my area to have clean water. This is why I decided to drill this borehole. It is my hope that once you vote for me as your Member of Parliament on 10 November this year I will continue doing that together with you using my funds as well as public development funds," said Mwenifumbo.
The veteran politician, Frank Tumpale Mwenifumbo further said the millennium development goals clearly stipulate that clean water for domestic consumption in Malawi is supposed to be accessed within a distance of not more than 500 metres away from their homes, a scenario which encouraged him to drill the borehole in this area as one way of attaining the goal.
Apart from this development, Mwenifumbo pledged to construct a Junior Primary School at Chiwondo in the same area soon after completion of the ongoing construction of a nursery school and a health center in the area.
Speaking to Tuntufye FM after receiving the borehole, Village Headman Mulandula commended the Mwenefumbo's gesture of coming to their aid.
---