BLAME GAME OVER MORTUARY CONSTRUCTION IN KARONGA
There is finger pointing between Health Authorities and Member of Parliament for Karonga South Constituency over construction of a mortuary at Chilumba Rural Health Centre as Area Development Committee (ADC) argues that members of the communities are surprised to see it being constructed.
This has been revealed during a media tour for Karonga based journalists organized by Catholic Commission for Justice and Peace of Karonga Diocese under the Fighting Inequalities project, aiming at bringing to light some of the development activities on halt due to various reasons among other failure by district council in inspecting such development in Traditional Authority Mwakaboko and Wasambo.
According to Coordinator for the project Obert Mkandawire many developmental works are at a standstill therefore if journalists can see them may hold accountable those who are responsible through their writings.
Speaking to Tuntufye Online Vice chairperson for Wasambo ADC Edith Kitima Mwakasungula said the idea behind the construction of the mortuary at the hospital is important as it will address many challenges that communities are facing during trying moments as they are forced to go with dead bodies to Karonga District Hospital which is costly.
"Many people spend a lot when it comes to keeping corpses of their relatives therefore this mortuary room can help in addressing that problem, but one of the big issues is that there lack of transparency and accountability as we do not know is constructing it and how much is expected to be spent on it; and we have to tried to engage council's officials no tangible answers we are seeing, but we will not sitting back because are planning to write to council to explain more". Said Mwakasungula.
On his part Karonga District Hospital's Administrator Clement Gonthi, admitted that they are aware of the construction and they even provided construction design for the same but since it is being constructed under Constituency Development Fund therefore they cannot talk much on it, but there should discussions among Councilors, Member of the Parliament and members of the ADC on how to go about it.
But clearly himself from what the ADC is arguing Member of the Parliament for Karonga North Constituency Uchizi Mkandawire, what the committee is saying is a lie because he consulted them long time ago and they know what is taking place.
"I also do not know what this committee is saying because they are fully aware of the construction so if they want to know about this they should engage of the District Commissioner."
By Winkly Mwaulambo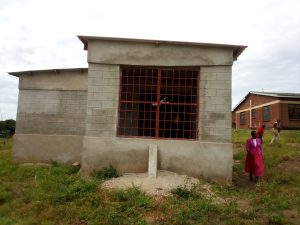 ---